About Temple
Our Story
In July of 1907, a two week revival was held at Blythe Street and Young Avenue in Memphis, TN. This revival lead to the organization of Blythe Street Baptist Church on June 27, 1909. On May 8, 1912 Blythe Street Baptist was renamed Temple Baptist Church after the purchase of property on Cooper Street. Temple Baptist continued to grow and on January 2, 1921 the new building on Cooper Street was completed.
By July of 1952, the Temple Brotherhood had been organized, Temple's library was founded and registered with the Library division of the Tennessee Baptist Convention, and Church membership had grown to over 3,300. The congregation also enjoyed a new Wicks Organ. Temple would enjoy celebrating their Golden Anniversary on June 28, 1959.
Shortly after Temple's 75th Anniversary, the membership voted to relocate from the Cooper Street location. In June of 1989, they broke ground at a new location on Shelby Drive which would serve as Temple's home until 2004 when the church would relocate to Olive Branch, MS.
Currently, Temple Baptist Church enjoys worship at their new location – 8432 Germantown Road, Olive Branch, MS. We invite you to join us in our beautiful new Sanctuary as we continue to serve and lift up our Savoir through the work & worship of Temple Baptist Church.
Sam Stallings, Pastor
Robert Samuel Stallings Jr. (Sam) served as a Transitional Pastor for several months before a unanimous vote by the membership for him to serve as our permanent Pastor. Sam earned a Masters of Theology at Southeastern Baptist Theological Seminary in 1981. He also holds a Masters of Divinity from Mid-South Baptist Theological Seminary and a Bachelor of Arts in Religion/Greek from Union University in Jackson, Tennessee.
Sam has served as Youth Pastor & Pastor at churches in Kentucky, Tennessee and Mississippi. He has also served as a missionary to the Philippines and Korea.
Sam and his wife, Connie, have four grown daughters and three grandchildren.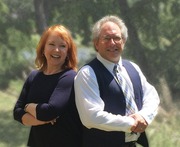 Kevin Hallmann, Worship Leader
Kevin Laird Hallmann began serving as worship leader in early 2017. He graduated from Ouachita Baptist University with a Bachelor of Music Composition degree in 1988, with an emphasis on sacred music, and a wide variety of piano styles. He has served as worship leader and pianist at churches in Memphis, Collierville, and Mississippi, conducting and accompanying choirs, instrumentalists, and vocalists. As a vocation, he has taught the art of piano playing to hundreds of students, adults and children, from many cultures. Kevin and his wife, Dianne, also pursue an outreach ministry to Calvary Rescue Mission and many organizations in Temple's surrounding area, leading in worship, presenting stories of hymns, playing different instruments, singing songs, and most of all, proclaiming the hope found in Jesus Christ.
Let everything that has breath praise the Lord. Praise the Lord. Psalm 150:6
Janet Stephens, Secretary
Secretary: Janet Stephens
For we are co-workers in God's service; you are God's field, God's building.
1 Corinthians 3:9